Sephra - Distributors Wanted
Could you become a Sephra Distributor?
Sephra are the world's leading manufacturer of Commercial Chocolate Fountains. Founded in 2003 we have worked tirelessly to produce what is without question the most reliable and functional range of Domestic and Commercial Fountains in the marketplace. Building on this success we have introduced a comprehensive range of Commercial Waffle, Crêpe and Donut Makers, Candy Floss and Popcorn Machines including the innovative Self-Serve Popcorn Machine.
Of course, supplying equipment is only half of the picture. We recognise the importance of being able to work closely with our customers on an ongoing basis. As such we have a range of accessories and consumables that compliment our machinery that is unmatched by any company who has followed in our path. From a luxury fountain ready Belgian Chocolate manufactured by one of the worlds leading producers, to a first class 'add water only' Crêpe, Waffle and Pancake Mixes with an industry leading one minute bake time, a comprehensive range of display options, down to the simplest of things such as Skewers, Serving Trays and Napkins. We truly cater for every requirement.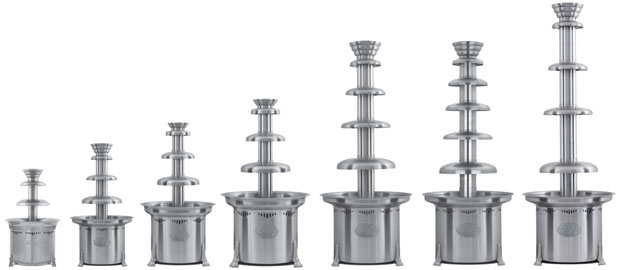 Having now sold our products in over 40 countries around the world, we recognise the diverse and unique nature of the different market places. As such our strategy is to work with local distributors who have specialist local knowledge. There are no hard and fast rules for what makes a perfect distributor, indeed there is no firm criteria that has to be met. Each partnership is very much assessed on its merits with a view to meeting an underlying principle, that the arrangement is mutually beneficial.
We work hard and loyally for our distributors, and so we ask for the same in return. Below are some of the attributes we are looking for based upon the profile of our most successful existing distributors:
A solid understanding of sales and marketing.
A strong web presence listing all of our products.
A willingness to use internet based sales and marketing resources (shopping portals, etc).
A responsive sales person capable of selling a concept, not just a piece of equipment.
A showroom
Willingness to exhibit at local trade shows.
Ability to hold stock in order to better service the local market.
Access to local technical resources for ongoing servicing and maintenance.
A business that sees our products featuring as a large percentage of your overall product range.
It must be stressed that not every one of our distributors has all of these attributes from the offset, indeed under certain circumstance some will never be met. A lot of people that we work with are entrepreneurial, and therefore by this very nature, are at the start of their journey. In these circumstances this very much becomes a roadmap for the future.
---
Resources and Support
I am sure you will recognise from what has been outlined that our definition of a distributor leans far more towards a long term partnership than simply a customer selling the odd unit and then having us drop ship it for them although under certain circumstances we do do this on behalf of our customers. As such we work very hard to provide all of the necessary resources and support required by our distributors. Some of the things this includes are:
Access to the best and most comprehensive range of products in this market place.
Ongoing commitment to product development and certification - We believe in making the sales process, and ongoing support of your customers, as pain free as possible.
Sales training - Our most successful distributors have an in depth knowledge of our products and what sets them apart from all the others that have followed.
Technical training - This not only allows you to better support your customers post sale, but offers excellent ongoing revenue opportunities.
Secure online library to images, training videos, sales videos and marketing collateral for all products - This has been a mammoth task, but gives our distributors 24/7 access to all product related materials.
Financial support and resources available for trade shows - We like to work side by side with distributors and often attend international trade shows together.
Access to stock and spare parts on an ongoing basis - You would think this would be a given, but it is amazing how many companies are regularly out of stock.
Secure login to a customer account centre - This enables you to place orders, track orders, print invoices and statements, etc, at your own convenience 24 hours a day.
Support from our in-house graphic design team.
---
I hope this information gives a good understanding of what our expectations are of our distributors, and indeed what your expectations should be of us. We firmly believe that this represents a great business opportunity to the right person. Opportunities for exclusive and non-exclusive distributors still exist in many areas around the world. If you would like to explore this further then please do not hesitate to contact us.