Sephra Retail Products
Sephra Retail Popcorn Tubs
The Sephra Popcorn brand is a subsidiary of Sephra, offering premium quality seasoned Popcorn in unique StayFresh, foil lined, recyclable, cinema style cardboard Popcorn Tubs to the retail sector, available in traditional Sweet and Sweet & Salty varieties. A custom design packaging service is available to help meet your business requirements.
Sephra retail Popcorn is available in a large tub offering of Sweet 165g or Sweet & Salty 170g, both in a case quantity of 18, or our smaller tub offering in Sweet 70g or Sweet & Salty 70g, case quantity of 24.
---
Sephra 375g "Add Water Only" Mixes
Chef's love using Sephra's "Add Water Only" Crêpe & Pancake and Waffle & Pancake retail mixes because they are simple to use and produce consistent product results every time. The mix bags have a tear-away top strip and are resealable to maintain the freshness.
ADD WATER ONLY - RESEALABLE BAG - USED BY TOP CHEFS
---
Sephra 450g Belgian Couverture Milk Chocolate
The industry standard and best premium Belgian Fountain Ready Couverture Chocolate. Gluten Free and Kosher Dairy approved in a convenient Sephra 450g bag, ideal for domestic use. Sephra Belgian Chocolate fondue is a specially formulated couverture chocolate developed for use in Commercial Chocolate Fountains and Home Chocolate Fountains. Creates the perfect cascading effect without the addition of oil or cocoa butter. It is also wonderful to use in making your favourite chocolate pastry or dessert, or just to eat straight from the bag! Sephra Belgian Milk Chocolate has a rich and sophisticated creamy milk chocolate flavour profile paired with the incomparable texture of Belgian milk chocolate.
---
Sephra 330ml Topping Sauces
Sephra's Topping Sauces can be served warm or cold and is perfect for use on Ice Cream, Waffles, Pancakes, Crepes and other desserts and is always at your fingertips to give a delightful finishing touch. If you are looking for a top quality topping to finish off desserts and hot drinks, then this delicious Bubblegum sauce is ideal. Supplied in a handy squeezable 330ml bottle with a non-drip cap and level indicator also featuring a resealable lid to keep the sauce fresh, Sephra's 330ml Topping Sauces are the perfect size for home catering use. Suitable for Vegetarians & Vegans, GMO Free, Gluten Free, Halal with a wide range of flavours available.
Sephra Chocolate & Baking Decorations
Sephra Belgian Couverture Milk, Dark and White Chocolate fondue is wonderful to use in making your favourite chocolate pastry or dessert, or just to eat straight from the bag! It is also specially formulated for use in Commercial Chocolate Fountains and Home Chocolate Fountains. Our range of food decorations will add the finishing touch to your home baking. Choose from Honeycomb Chunks, Chocolate Brownie Chunks, Mini Milk Chocolate Beans and Mini Fudge Squares.
---
Sephra Europe Ltd has been approved by SALSA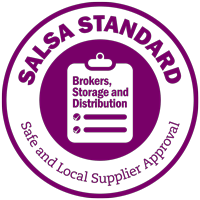 Written by experienced food safety experts, SALSA is a robust and effective food safety certification scheme which is appropriate for smaller food producers and suppliers.
Approved suppliers can demonstrate that they operate to standards that are recognised and accepted across the industry and exceed the minimum standards expected by enforcement authorities.
SALSA approval is only granted to suppliers who are able to demonstrate to an auditor that they are able to produce and supply safe and legal food and are committed to continually meeting the requirements of the SALSA standard.
SALSA is a non-profit making joint venture founded by the four main trade associations representing the UK Food Chain featured on the right. The Institute of Food Science and Technology operate the scheme throughout the UK. All of these bodies make up the independently chaired Governance Committee which oversee the SALSA scheme.
View Sephra's SALSA Certificate.